Beautiful Patterns, Common Threads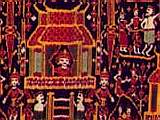 CAMBODIA--Part 1
---
PHNOM PENH
Phnom Penh is the capital of Cambodia. Sits at the confluence of the Tonle Sap, Bassac and Maekhong (Mekong) rivers. Seat of government was moved here after decline of Khmer empire centered at Angkor. One of the three great colonial capitals of Indochina (along with Vientiane and Hanoi). A million people, reviving after its devastation during the murderous years of Khmer Rouge control.


Fruit Stands Like This Line the Streets of the City

The Roof of Wat Lang Ka: Great Khmer Architecture Continues to Be Built

Public Parks and Fountains: A Positive Aspect of the French Colonial Legacy

Some Interesting Traffic in Phnom Penh: The Country Comes to the City (Cambodia IS Mostly Rural!)

Cambo Fun Park: A Break from the Routine in the Heart of the City

Fast Food, Khmer Style: The Contemporary Legacy of American CULTURAL Colonialism

The Cambodia-Vietnam Monument: Part of the Legacy of Vietnamese Occupation

The Cambodia-Vietnam Monument: "Fighting for Liberation"?

My Friend Keo: He Works for UNICEF Now, But in the Khmer Rouge Years His Sister Would Walk Ten Kilometers to Bring Him One Potato

Life on the Water: Along the Tonle Sap River in Downtown Phnom Penh

Winged Snacks: Don't Worry, They're Not Babies, Just Really Small Birds (You've Eaten Chicken, Right?)

A Magic Healer Touting His Wares (Check Out the Poster on the Stand): Is This Any Way to Cure a Headache? (AND: Remember the Malaysian Healer?)

New Years' Lights At the Royal Palace...

What a Magnificent City!!
---
---
Copyright © 1999 by Avi Black
This page is maintained by
Todd Greenspan
for
Avi Black
Comments and suggestions welcome.
Last updated
4/14/99