Beautiful Patterns, Common Threads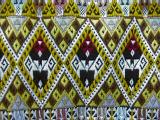 THAILAND
---
"Imagine you are in a Buddhist temple. Inside, monks dressed in yellow robes are chanting their ancient prayers, completely detached from the cares of every-day life. People come to offer the monks flowers, candles and incense, and then kneel on the floor in solemn meditation. The atmosphere is peaceful, serene and holy. Yet outside in the temple yard, a noisy fair is going on. Thousands of people are buying and selling anything from magazines, to jewelry, to children's clothes. Loud music, both Thai and Western, is blasting through the loudspeakers, and the smoke of chicken and pork roasting over open fire blends with the scent of incense coming from within the temple.
Imagine you are inside a fabulously fancy house. The floors are all marble, windows are hung with luxuriant silk curtains, and in the spacious garden guests mingle among exquisite pavilions and water fountains. All about there are servants, busy serving rare delicacies and cocktails. Yet on the other side of the street is a huddle of ramshackle little huts, built out of pieces of wood, plastic and corrugated iron patched together. The huts have no running water, so the inhabitants use a nearby canal as a bathroom. Oblivious to the stench and the flies, a group of naked children is joyfully playing in the canal, and splashing the polluted water on each other.
Imagine you are in a jungle. The trees are so dense and tall that the sunshine hardly penetrates them. Exotic birds and butterflies in a dazzling array of colors are fluttering about. Rare monkeys, wild elephants, and tigers come to quench their thirst at a cool mountain stream which cuts through the jungle. Yet just a few miles away, the landscape is as desolate and barren as a desert. Gone are the trees, felled by greedy businessmen, and gone too are the lush undergrowth and abundant wildlife.
Welcome to Thailand, land of contrasts....It is a country of incredible natural beauty, kind and charming people, a long and awe-inspiring history, and a rich and diverse culture. Yet, like other countries, it also has its share of social and environmental problems...
So sit back and relax. You are about to begin your journey."
From "Thailand: Land of Contrasts" by Titima Suthiwan and Uri Tadmor, published in 1998 by the Center for Southeast Asian Studies, School of Hawaiian, Asian an Pacific Studies, University of Hawai'i
---
"Welcome to the Land of Smile"

From a sign at the Bangkok International Airport
---
Thailand, Part 1 Bangkok
Thailand, Part 2 Outside Bangkok
Thailand, Part 3 Bangkok--City of Temples
Thailand, Part 4 Central Thailand
Thailand, Part 5 Northern Thailand: Phitsanoulok and Sukhothai
Thailand, Part 6 Northern Thailand: Chiang Mai
Thailand, Part 7 Northern Thailand: Chiang Mai, Part 2 Up April 26
Thailand, Part 8 Northern Thailand: Hill Tribes Up April 30
Thailand, Part 9 Southern Thailand New as of June 3