Beautiful Patterns, Common Threads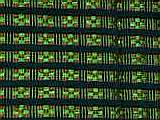 VIETNAM--Part 6
---
Vietnam, part 5
THE CENTRAL HIGHLANDS
On the Road from Saigon to Dalat
The area northwest of Ho Chi Minh City and inland from the coastline along the South China Sea is mountainous; this is the southern part of the Annamite Mountain chain. The "Central Highlands", as this area is called, has long been a favorite vacation destination for the Vietnamese (and the colonialists who lived here) because of its cool climate and beautiful scenery. It is also home to many of the Montagnards, or hill tribe minorities, who live in a large swath extending from here north to the China border in the northwest part of Vietnam. The cultures of these peoples, and the variety of vegetables, fruits and other plants cultivated throughout the Central Highlands, makes this an especially interesting part of the country to visit.

Rubber Trees Help Make the Tires to Keep All Those Motorbikes on the Road

Some Pretty Hairy-Looking Things Hang Out in the Jungle, So Watch Where You Step! (I Almost Went Face-First Into This One...)

Floating Houses: Living On the River Is a Completely Different Existence

A Statue Memorializing the War Dead Looms Over the Countryside

A Catholic Cemetery: Some Provinces in the South of Vietnam Are Ninety Percent Christian, Though the Country As a Whole Is Mostly Buddhist

It Seems Like Every Square Inch of the Land Is Cultivated, Even on Steep Hill Sides...

...And in the Highlands, Tea Plantations Predominate

That's Coffee on the Left, and Tea on the Right...

...And These Are Mulberry Bushes, Whose Leaves Are Used to Feed the Silkworms That Make the Silk That Highland Weavers Make Into Beautiful Fabrics...

...Like This!

The Dambri Waterfalls Are the Largest of Many That Dot the Landscape of the Highlands
---
---
Copyright © 1999 by Avi Black
This page is maintained by
Todd Greenspan
for
Avi Black
Comments and suggestions welcome.
Last updated
5/28/99