Beautiful Patterns, Common Threads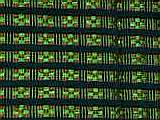 VIETNAM--Part 7
---
Vietnam, part 6
DALAT

I Woke Up in the Morning to Find This Little Guy Waiting for a Ride on My Motorbike, I Guess

The Hang Nga Tree House: A Guest House That Was (And Is Still Being) Designed By a Famous Architect Who Is the Daughter of One of Vietnam's Former Presidents -- It's Weird and GREAT!

Banana Carters Bringing Into Dalat Town Just a Few of the TONS of Fruit from the Countryside

In the Middle of a Dalat Rainstorm: When It Rains, It POURS!!!

The Dalat Marketplace Is a Bustling Place, Especially When Viewed from Above

The Dalat Morning Market is Full With the Rich Produce of the Central Highlands

Building a Road With Manual Labor -- And Guess Who's Doing the Heavy Work AGAIN?

At Dalat XQ Silk Embroidery Studio: The Process Begins With the Artist's Perspective in Pencil...

...Which an Expert Embroiderer Crafts Into a Threaded Piece of Art

Sometimes, Whole Teams Work on the Embroidering Process

The Finished Piece Can Be More Traditional, Like This Technically-Difficult Profile of a Person...

...Or, It Can Be More Abstract, Relating Ideas the Artist Wishes to Convey
---
---
Copyright © 1999 by Avi Black
This page is maintained by
Todd Greenspan
for
Avi Black
Comments and suggestions welcome.
Last updated
6/2/99