THE CENTRAL COAST
Heading north towards Hue from Hoi An and nearby Danang, Vietnam's fourth-largest city (which I didn't visit), one crosses some of the most beautiful coastline imaginable. Past the Marble Mountains the views are especially dramatic, especially through the area around Hai Van Pass. At the same time, this is the coastal area of the DMZ ("Demilitarized Zone"), a region with one of the most ridiculous names anywhere -- this was where the most intense fighting of the American War took place. While I did not go inland, fellow travellers I spoke with described the DMZ as a wasteland, where few plants are able to grow even twenty-five years after the end of the war. Contrast that mental image with the beautiful scenery you see here along the coast; war is indeed hell.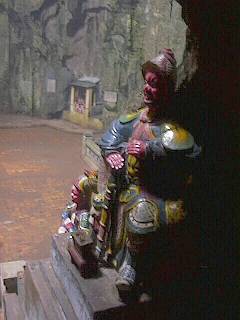 This Stone Warrior Guards the Entrance to One of the Buddhist Cave Sanctuaries in the Marble Mountains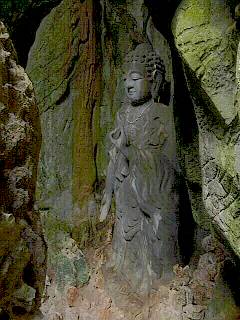 A Gigantic Buddha Figure Stands Inside One of the Caves...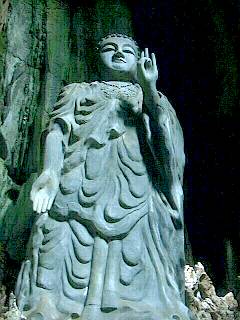 ...to Greet Worshippers and Other Admirers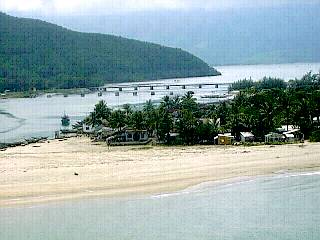 The Coastline Near Lang Co Island Is Particularly Beautiful...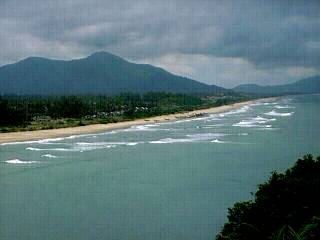 ...After Six Months of Travel, I Dreamed of Stopping Here to Rest For a Month or Two!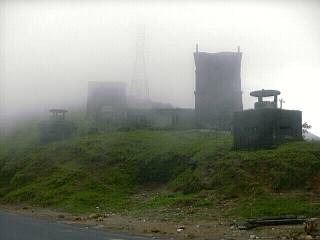 An American Bunker at Hai Van Pass: The Beauty of the Area, and Time, "Mist Over" the Horrors the War Created