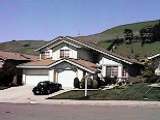 I'm actually back in California now (staying at my brother's house--see photo), but my trip on the web is still going because it takes us time to get the pages up. In fact, I'm teaching school again and already planning a return visit to Thailand in December 1999.
New sections (parts 8 through 10) on Cambodia just went up (10/99).
Other recent additions are from
Vietnam
(8/10/99) and
Southern Thailand
(6/3/99). There will be new sections of the site going up regularly for at least another few months, so keep checking in even if you don't get a prompt response from me.
---

Hey, guess what? We were featured April 12-19 on the
MSNBC Learning Online Cool Collection
site!
---
Note: While this is still the home page for the site, there is an important cover page:
Beautiful Patterns, Common Threads
Go there and bookmark that URL
http://members.aol.com/kebyar/
as the front portal to my site in order to have the complete experience in the future.