Beautiful Patterns, Common Threads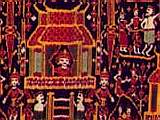 CAMBODIA--Part 2
---
PHNOM PENH
NEW YEAR'S IN THE CAPITAL

Offerings of Rice to the Temple Garner Merit for the Givers

Anybody Know What These "Sand Offerings" Represent?

Temple Goers Push Incense Sticks Into the Sand Cones...

...Then Grab a Handful of Sand and Pour It Over the Offering -- A Real Family Activity!

Tell Me Which One of These Four "Sand Offering" Photos You Think Should Be Included in the Final Site!

Washing the Buddha Statues is an Important Part of Welcoming the New Year

Bone Shrines Commemorate the Lives of Those Whose Bones Are Buried Underneath (They're Made of Concrete Because the Originals, More Beautiful, Were Destroyed by the Khmer Rouge)

Traditional Dance is Making a Major Come-Back...

...And Folk Dances Are Especially Popular

Boys Are Joining In on the Act as the Culture of the Past Is Being Brought Back to Life

Baby Powder is Replacing Rice Flour as the "Weapon of Choice" to Greet the New Year -- Watch Out or You're a Target, Too!
---
---
Copyright © 1999 by Avi Black
This page is maintained by
Todd Greenspan
for
Avi Black
Comments and suggestions welcome.
Last updated
4/23/99