Beautiful Patterns, Common Threads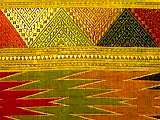 LAOS--Part 2
---
Along the Maekhong River
The Maekhong (Mekong) River is the longest and largest river in Southeast Asia. It is magnificent, running from the Himalayas to southern Vietnam through a landscape (in Lao, anyway) of craggy hlls and mountains covered with lush jungle vegetation. It's a wild river, too, bearing names like Lancang Jiang ("Turbulent River") in China and Cuu Long ("Nine Dragons") in Vietnam. There are no large cities along its entire length until the delta area in southern Vietnam, and no bridge was build to cross it until 1993 (there's still only one). This photo shows the kind of small-scale activity you see along the Maekhong's banks, as an elephant helps load timber onto a boat heading upriver to China.
Some facts about the Maekhong River...
Its headwaters are on the Tibetan Plateau, seventeen thousand feet above sea level
It runs from Tibet through China and on to Myanmar, Lao, Thailand, Cambodia and Vietnam
It is almost three thousand miles long, making it the twelfth longest river in the world (it ranks tenths in terms of the amount of water it carries)
At its widest, it is over eight miles across during the rainy season
And, of course, it is a major source of fish and agricultural resources (water and silt) to the people of Lao and other countries of Southeast Asia
About halfway to our overnight stop at the village of Pakeng, we discovered the reason for our difficulty finding a slow boat in Huay Xai. This boat apparently couldn't make its way through the whirlpools at a narrow spot in the river...
...and ended up stuck on a sandbar. We found out later it was carrying a huge load of cement and sank when water got into the hold, turning the boat's cargo into a massive, unmanageable weight. (The next day, we heard from a passing speedboat driver that this boat had sunk entirely below the river's surface, allowing river traffic to resume.)
The only life we saw in six hours of river travel on the first day was in a very few fishing villages like this one. People here fish by suspending nets into the water from poles jammed into the rockes, then returning at the end of the day to gather their catch. I've rarely felt as far away from "civilization" as I did traveling along the Maekhong in this area. In fact, all of Lao has less than five million people, which is the population of the San Francisco Bay Area alone. Huay Xai, the "city" we just left, with only one main street, is the fifth-largest in the country!
Diary Entry: March 20, 1999
I don't think I've ever felt as distant as I feel now floating along the Maekhong in western Lao, passing by these craggy, steep-sloped hills that flow down to the river, covered with lush, green, droopy fern-shrouded trees in a primordial forest so dense you can't see beyond the front line facing the river; now, coming upon a small, ramshackle platform way up on the hill -- and imagining I am the person who built it and who spends time up there resting from hunting in that forest and gathering roots for my family. Now THAT'S far away -- not only in space, but in MIND, too!
We stopped overnight, halfway to Luang Prabang, at the small village of Pakbeng. This is the view from the river up the hillside to the stilt houses along the main street.
To get up to that main street, you have to climb up these steep stairs from the river bank...
...and this is where you end up. Believe it or not, this is the beginning of Highway 2, which goes all the way up to the Chinese border. Being at the crossroads (of Highway 2 and the Maekhong) makes Pakbeng quite a busy place...

...with an active street life. Stores dot the sides of the street, and dozens of children play and work from dawn to dusk. At night, though...

...people retreat indoors for their favorite pastime, watching movies. For two hundred kip (about three cents), moviegoers get their choice of about four features around town at video theaters like this. That's the concession stand out front -- no popcorn or Coke, but you can buy fruit jellies, peanuts and other locally-made or grown treats.
---
I woke up in the middle of the night and decided to see what the sky would look like this far away from civilization. I was disappointed at first to find fog enshrouding the village -- but, as I looked, straight overhead, a hole developed that let you see through the mist. The stars were so dense they looked like snow, and I swear I could see to the edge of the universe.
As I marveled at the sight, I began to think about how great it was starting my trip to Lao in the countryside, where most people live, before heading into the "big city" areas. Most travelers (me included) begin their trips in an urban area, if only because that's where the airport is bound to be, and many don't ever even get out to the country. This way, I can see what Lao is really like, and leave to my imagination what I'll find in places like Luang Prabang and Vientiane. It's a MUCH better way to travel, in my opinion!
---
In the morning, my friend and I walked along the main road away from the river towards the other edge of Pakbeng. We came across a Buddhist temple with jaofaos like those I'd seen on temples in Thailand, meant to protect the temple from evil spirits falling from the sky. These, though, are actual dragon/bird figures rather than the stylized images of birds you'd see in Thailand. I don't know which I like more -- they're both cool!
Farther down the road we found a group of villagers helping to rebuild part of someone's house. This spirit of cooperation has characterized village life everywhere I've been so far in Southeast Asia.
Near the edge of town, we met a group of kids who were thrilled to talk to us. My friend speaks Thai, which is very close to Lao, so she could translate easily. It was still hard to get them to answer questions; they just seemed to want to know all about us. When I told them I was a teacher, though, and have Lao-American students who want to know about life in Lao, they were more willing to talk. If you want to learn a little about what life is like for young people in a place like Pakbeng, I will soon put up the full interview. Here's their answer to my first question:
Interview with Some Young People in Pakbeng, Udomxai Province
Translations by Seenuan Sirikomon March 21, 1999
Q: Why do you like Pakbeng?
A: For one thing, it has a beautiful environment. People have nice smiles. And, there are lots of pretty girls.
To be continued
If you would like to write to these students in Pakbeng, it might be a little tough because they don't have access to e-mail and, in fact, even regular posted mail isn't too reliable. But, I can try to get your letters to them. To let me know if you want to try, just e-mail me.
---