Beautiful Patterns, Common Threads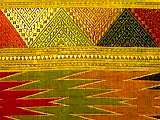 LAOS--Part 3
---
LUANG PRABANG [map]
"Luang Prabang is the ancient capital city of the Lan Xang Kingdom. According to the Luang Prabang legend, the first name of Luang Parabang was Muang Swa, named after King Khun Xua around the eighth century, later known as Xieng Dong and Xieng Thong. During the reign of King Fa Ngum between 1354 and 1372 A.D., Xieng Dong, and Xieng Thong cities were renamed Luang Prabang in the name of the gold image of Buddha, the Phrabang. Luang Prabang was the capital of the Lane xang kingdom from 1354 A.D. The capital was then transfered to Vientiane city in 1560 A.D. Luang Prabang is rich in cultural heritage, known as the seat of Lao culture, with monasteries, monuments traditional costumes and surrounded by many types of nature's beauty. Luang Prabang province has a total population of 365000."--Quote from the Lao Embassy in Washington, D.C.


Dry Season Crops Along the River

More Jaofaos, Luang Prabang Style

A Beautiful Temple Mural: The Story of Manola

A Beautiful Temple Door Carving: More About Manola

Wat Tower Drums Call People to Community Meetings

The Drum Tower Itself

Thanon Photisalat: A Main Street in Luang Prabang

A Modern-Day Carver Portrays Manola

A Lower Secondary School Level 1 Class Greets A Guest

Lunch Time At School

An Elderly Hmong Woman Selling Her Wares

Some "Eighth-Graders" I Interviewed

The Entry to Wat Mai Suwan

An Ornate Cornice at Wat Xieng Muan

A Mural at Wat Xieng Muan Portrays the Life of the Buddha

A Buddhist View of Hell

Xieng Thong: Luang Prabang's Most Famous Wat

A Glass Mosaic at Wat Xieng Thong Portraying the Daily Lives of Lao People

The Buddhist Tree of Life

The Carriage House at Wat Xieng Thong Tells the Story of the Ramayana

Monks in Prayer at Wat Xieng Thong

Monks Walking the Streets in the Early Morning to Collect Alms

Giving Food to the Monks is a Chance to Earn "Merit" Towards the Next Life

A Brief Shower Gives a Preview of the Rainy Season Soon to Come

Vegetables Are the Core of Lao Food; Herbs Add the Flavor; Chilies Add the Spice!

Talaat Vieng Mai: The "Wet" Market of Luang Prabang

A Beautiful Drum Tower

Back on the Maekhong in a Flat-Bottomed Boat

Some of the Thousands of Buddhas at Ancient Pak-Ou

Inside One of the Pak-Ou Caves

Inside a Pak-Ou Cave: Looking Out at the Maekhong

Panning for Gold, One of Lao's Precious Mineral Resources

Luang Prabang's Museum Used to Be the King's Palace

Spirits of the Lao Theung Parade Through Luang Prabang During Pii Mai Lao (Lao New Year)
Laos, Part 4--Xieng Khuang Province
---